Why Choose BMC CPAP Machine?
Founded in Beijing in 2001, BMC is a Chinese national high-tech enterprise and Zhongguancun high-tech enterprise. It is a leading manufacturer of medical equipment and consumables in the field of respiratory health in China. BMC specializes in a wide range of products including PAP machines, masks, sleep monitors, HFNO (high-flow nasal cannula oxygenation) devices, and provides respiratory chronic disease management programs. BMC has already been the top manufacturer of PAP machines in the year 2020 in China.
BMC's PAP machines have obtained the registration certifications of NMPA (China), CE (EU), FDA (US), and from many other countries and regions around the world including Europe and Southeast Asia. The products are sold to more than 100 countries and regions around the world. It has occupied the international market for its high reliability and cost-effectiveness. 
As an authorized distributor of BMC, BMC CPAP Shop offers genuine and quality-guaranteed products from the original factory.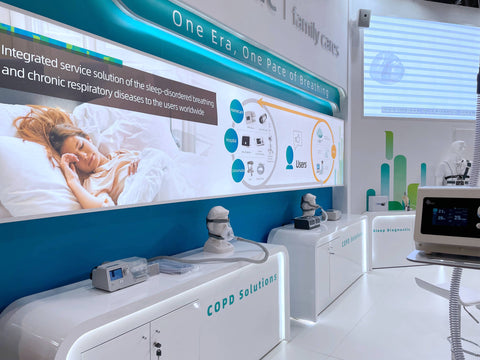 Comprehensive understanding of BMC CPAP machine
Do you compare products from different brands before buying a CPAP machine? So, do you really know the product parameters? Are the more expensive products the better?
Heated Humidifier

A heated humidifier works by heating the metal base plate to evaporate the water in the humidifier and prevent condensation. The evaporated water can help increase the airflow humidity of the PAP machine, which makes the machine comfortable to use when the temperature is low. The heated humidifier is very important for users who use PAP machines in cold places.

Please note that heated humidifier from some brands on the market needs to be separately purchased. All PAP machines from BMC have build-in humidifiers and you don't need to pay extra money.


Ramp

Many PAP machines feature Ramp that can reduce pressure and then gradually increase the pressure to the prescription set so the patient can fall asleep more comfortably. It offers added comfort when the PAP therapy is started.

The ramp time ranges from 0 to 60 minutes. The length of time is determined by the user himself. The ramp time of most PAP machines is 45 minutes, while that of BMC can be set to 60 minutes to make you fall asleep faster.


Smart Data Recording

This function is very important. Users can track data to see the results and make the corresponding adjustment for better effect.


RESlex

The RESlex setting reduces the exhalation pressure of the CPAP machines, allowing the patients to breathe easily and comfortably.


Apnea Response Sensitivity

It is advisable to buy a CPAP machine with the function of Apnea Response Sensitivity. The higher the sensitivity of the machine, the faster the machine will be to sense the breathing of users and adjust the pressure timely. This can greatly improve the synchronization between the user and the machine for added comfort.


Size and Weight

You should consider whether the PAP machine is suitable to be placed on the nightstand and whether it is ideal to be carried around or whether you need a mini CPAP machine.


Easy Operation

The screen size is also an essential factor for the operation of a PAP machine. The large screen is more suitable for older people.
To better understand the BMC PAP machine, we have the following parameter comparison between BMC G2S A20 and Resmed AirSense 10 AutoSet.
BMC G2S A20 vs Resmed AirSense 10 AutoSet
Details

BMC G2S A20

Resmed AirSense 10 AutoSet

 Appearance

 

Mode of Operation

Dual Mode: CPAP / APAP

Dual Mode: CPAP / APAP

Minimum Pressure

4cmH20

4cmH20

Maximum Pressure

20cmH20

20cmH20

Display Screen

yes

yes

Leakage Detection

yes

yes

ON/OFF

Auto ON/OFF

SmartStart™/Stop feature

Exhale Pressure Relief

RESlex

Easy-Breathe waveform with EPR

Auto-adjusts pressure for OSA events

Yes

Yes

Humidifier Water Chamber

Can take apart for cleaning

Can take apart for cleaning

Sound Level

28dB

Device with SlimLine and humidification:

27 dBA with uncertainty of 2 dBA (CPAP mode)

 

SD data card

Yes

Yes

Detailed data on SD card (30 sessions) 

Yes

Yes

On-screen review of sleep data

Comprehensive data available

Comprehensive data available

Carry Bag

Supplied

Supplied

Country of Manufacture

China

Australia or Singapore

Warranty

3 years

Different country or region may be different

Machine&Humidifier Price

$499 on BMC CPAP Shop(only available in this store), free shipping 

Different country or region may be different
(ResMed AirSense 10 AutoSet data from ResMed offical website)
BMC CPAP Shop is your cost-effective choice
PAP machines from BMC are very cost-effective. Please note that the BMC CPAP shop displays the price for each product and if you want to order more products, you can directly contact BMC for the wholesale prices.
BMC CPAP Shop provides products that feature a Heated Humidifier, Ramp, Smart Data Recording, RESlex, Apnea Response Sensitivity, and other functions. It aims to offer you the best treatment and better experience.
BMC offers a 3-year warranty
The BMC CPAP shop offers a 3-year warranty from the date of receipt confirmation of the purchased machine.

For the first year:
You can enjoy a free repair including the replacement of the new machine or related accessories if the machine cannot work (not because of misuse of the product). The shipping costs for the product return and new products are borne by BMC CPAP Shop.

For the second and third years:
If the product cannot work (not because of the misuse), it can be repaired and replaced with a new machine and related accessories free of charge. But the shipping costs should be borne by buyers.
BMC CPAP machine supports cloud data views
A PAP machine is also important to feature the tracking system. BMC PAP machine can record the data in real-time. You can download the PAP link APP and scan the iCode QR to get the data, allowing you to know more about your sleep condition.

Every night your machine will generate a QR code. This code will appear on the BMC CPAP machine display and when scanned with the PAP Link App (available for both Apple and Android), it will generate a report about the previous night of sleep. You can view it on your phone.
Please visit Our Quick Guide for PAP Link APP by this link: https://cpapeu.com/pages/pap-link-app-quick-guide
Free shipping for most areas in the world
BMC CPAP Shop offers free shipping for almost all countries in the world except for the USA. Very few remote places require customers to pay remote fees, if the customer's address is in a remote area, our service team will contact the customer. 
BMC CPAP Machine supports multi-languages
BMC CPAP Machine supports multiple languages including English / Español / Português / Deutsch / 中文(简体)/ Français / Polski / Italiana / Türk / Русский / Nederlands / Ελληνικά / 한국어/Magyar/ไทย.
BMC CPAP Machine provides user manual PDF in different languages including English / Español / Português / Thai / 中文(简体)/ Français / Italiana / Türk / Русский.
The mobile APP also supports multiple languages including English, Spanish, Portuguese, German, Russian, Korean, Japanese, Italian, and other languages.
Auto on/off function of BMC CPAP machine
The auto-on/off function of the BMC CPAP machine makes it more convenient for users during the use, non-use, and re-use.
Auto-off: If you take your mask off when using the CPAP machine, the machine will stop automatically.
Auto on: If you put on the mask and take a few deep breaths, the CPAP machine will work again automatically.
If you want to know more details about BMC CPAP machine and BMC CPAP Shop, you can join the following community: https://www.facebook.com/groups/bmccpapcommunity/posts/961332527878310/  BMC CPAP Community, anyone could feel free to share their experience about using the BMC CPAP machine. Our group members could get support and advice here. Welcome to join us.